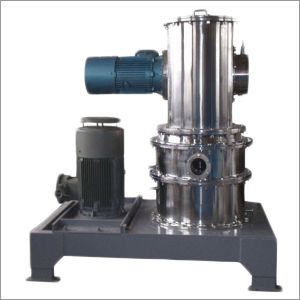 Working Principle :
Material would be conveyed by feeding system evenly to milling chamber, and would be impacted by high-speed rotating beater, and also under the centrifugal force.
It would impact the grinding track.
By several different pulverization powers, the material would be milled into fine powder.
The milled powder would go with air flow up to the classifying chamber. With the help of adjustable classifier wheel, Coarse powder and fine powder would be separated.
Qualified fine powder would go through the wheel vane then into the cyclone separator or dust collector; coarse powder will go back to milling zone for further milling.
Applications:-chemicals
Features :
Milling and classifying integrated in one system. Required product size achieved by the adjustment of classifier wheel.
Compact structure, small space occupation, low installation power, wide application, and high performance cost.
Different beater designs, pin shape, hammer shape and tooth shape, for different materials. High milling efficiency.
Suitable for powder product milling between D50:2 micron and 75 micron.
Lower energy consumption than jet mills, and wider application.
Key parts processed by CNC machine.
To pulverize heat-sensitive raw material by strong air flow to reduce temperature or low-temperature air flow.
Low noise design available.
Nitrogen gas recycling design for pulverization available.
Specification :

Parameter/Type

CSM-280H

CSM-400H

CSM-630H

CSM-800H

CSM-1000H

CSM-1250H

Motor (kw)

Beater

7.5

18.5

30

45~55

75~90

132

Classifier Wheel

4

4

11~15

15

22

30

Feeder

0.55~1.1

Rotation Speed (r/min)

Beater

7500

5250

3350

2625

2100

1700

Classifier Wheel

1000~8500

800~6000

600~4000

500~3000

400~2250

300~2000

Feeder

20~100

Max.Air Flow (m³/h)

500

1200

3000

4800

9000

12000

Product Size (um)

5~300

10~300

2~120

15~600

25~1000

30~1500

60~2000

100~3000