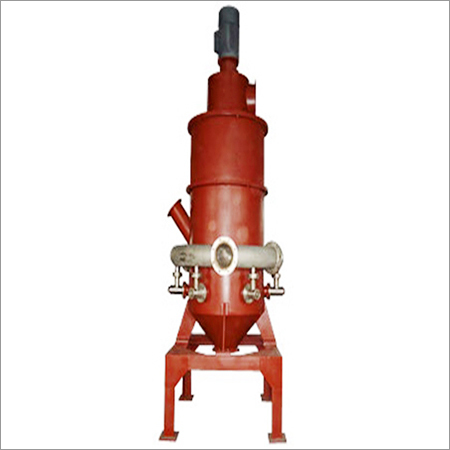 Working Principle :

Jet mill works with cyclone separator, dust collector and suction fan to form a complete classifying system.
Compressed air flow after filtration and drying would go into the milling chamber from nozzles,and meet in the center area, where material would be impacted and grind and sheared.
Milled powder would go up to the classifying chamber by the air flow from suction fan.
The classifier wheel with high-speed rotation would create a strong centrifugal force to separate the coarse powder and fine powder.
Qualified fine powder would go through the wheel vane then into the cyclone separator or dust collector, while coarse powder would fall down the milling chamber to be milled again.
Applications:-chemicals
Features :
Suitable for various dry powder milling of Moh's hardness<9,especially good for these materials with high hardness, high purity and high added value.
Product size can vary from D97:2 micron to 150 micron. Good particle shape, and narrow particle size distribution.
Low temperature milling with no grinding media, especially good for these materials with heat sensitiveness and low melting point, high sugar content and highly volatile.
Powder milling is done by particles impacting each other, different from impact mill which impacts materials by blades or hammers and wear quickly. Good product purity.
It can be connected with several units of classifiers in series to produce several different sizes at one time.
It is easy to dismantle and clean. Inner wall smooth, and no dead angle,
Close milling system, few dust emission, low noise, clean in production.
Control system uses program controlling, which operate easily and simply
Specification :

| Parameter/Type | MQL03 | MQL06 | MQL10 | MQL20 | MQL40 | MQL60 | MQL80 | MQL120 |
| --- | --- | --- | --- | --- | --- | --- | --- | --- |
| Feed size mm | <5 | <5 | <5 | <5 | <5 | <5 | <5 | <5 |
| Product size D97:um | 8~150 | 8~150 | 8~150 | 8~150 | 10~150 | 10~150 | 10~150 | 10~150 |
| Production capacity kg/h | 5~100 | 10~200 | 20~400 | 50~800 | 150~1500 | 300~2000 | 400~6000 | 600~10000 |
| Air consumption m³/min | 3 | 6 | 10 | 20 | 40 | 60 | 80 | 80 |
| Air pressure Mpa | 0.7~0.85 | 0.7~0.85 | 0.7~0.85 | 0.7~0.85 | 0.7~0.85 | 0.7~0.85 | 0.7~0.85 | 0.7~0.85 |
| Installation power kw | 26~37 | 46~68 | 68~106 | 145~184 | 276~310 | 402~427 | 520~600 | 720~900 |